LEFTYS NOW DELIVERS!!
Monday- Saturday 11am to 8 pm Local Valley Area 565-7037
ALL-AMERICAN
GRILL & BBQRESTAURANT

460 Broad St.
Waverly,NY

Dining:(607)565-2698
 Banquet&Catering 565-8854
 Delivery 565-7037
Fax:(607)565-3431

Lefty's is owned and operated by Tommy&Jodi D'Aloisio and Alice&Jim Bennett. They, along with their staff, are dedicated to bringing you a pleasurable dining experience. The menu contains a variety of appetizers, salads, sandwiches, entrees, and Alice's mouth-watering desserts!
Be sure to click the link below to view the full menu.
Stop by soon to see for yourself what everyone is talking about!
'Because it doesn't matter who's right, just who's LEFT.'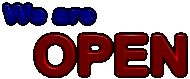 MONDAY-THURSDAY 11:30am- 9:30pm
FRIDAY & SATURDAY 11:30am - 10pm
SUNDAY 4pm - 9pm
2:30pm-4:30pm Monday thru Friday


Sorry NO Reservations...(first come, first serve.)
CASH or PERSONAL CHECKS
No credit cards accepted


CALL NOW FOR DELIVERY OR TAKE-OUT!
565-7037
DELIVERY-TAKEOUT-DINING

What's Up at Lefty's?...
(Click links below to find out!)
LEFTY'S RIGHT HAND

Need a place for a banquet, rehearsal dinner, meeting, reunion, etc.?
Let Lefty's take care of your needs!

LEFTY'S PHOTO ALBUM

Intel applet: photo album..

LEFTY'S MIDI ARCHIVE


click in the headline below to view article in seperate window





This site updated on July 10, 2000